Wax business
Stable supply and outstanding
quality control for natural waxes
TOA KASEI specializes in natural waxes, especially carnauba, candelilla, rice and sunflower waxes, and supplies to several industries, such as cosmetics, foods, printing and coating.
TOA KASEI ensures the quality of its natural waxes by actually visiting production regions and
conducting strict quality control, including raw material quality evaluations. This is because natural waxes are easily influenced by the environment and other factors in nature. This is why, as a
manufacturer which possesses research
functions, we implement thorough management according to the characteristics of each material,
enabling us to provide the optimal products for the customer's need, whether for industrial application or for use in food/cosmetics.
Research and Development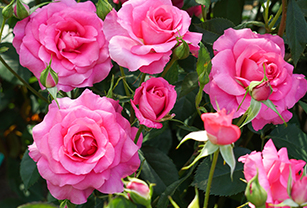 Waxes contain specific substances, and these substances are
precious for various industries. TOA KASEI has gained a
reputation for the extraction, purification, refining and blending of substances according to the requirements of
several
industries. We continue to conduct extensive research into new wax development and process optimization.
Thanks to our wax development, rose wax was recently launched as a new cosmetic ingredient. TOA uses special technology to obtain wax from rose flowers, which it refines as a cosmetic raw material.